Ever wondered how to make your house smell like a spa? These 10 simple and affordable tips will make your home smell like a spa in no time and instantly make you feel relaxed!
One of the things I love most about spas is how heavenly they smell. As soon as I enter a spa, I immediately feel rejuvenated.
How many of you agree that you feel relaxed even before your pampering session begins?
That's because spas know that scents can enhance our moods. As a result, they use a lot of smells like lemongrass, eucalyptus, lavender, and peppermint that trigger calming and relaxing effects.
One of the things I love doing is making my home smell good. It's easy, affordable, and puts me in a good mood every single time.
As we begin a new year, I thought I'd share how to make your house smell like a spa with 10 simple tips. Just implementing one tip from the list below can help to evoke a serene and soothing atmosphere at home!
Related: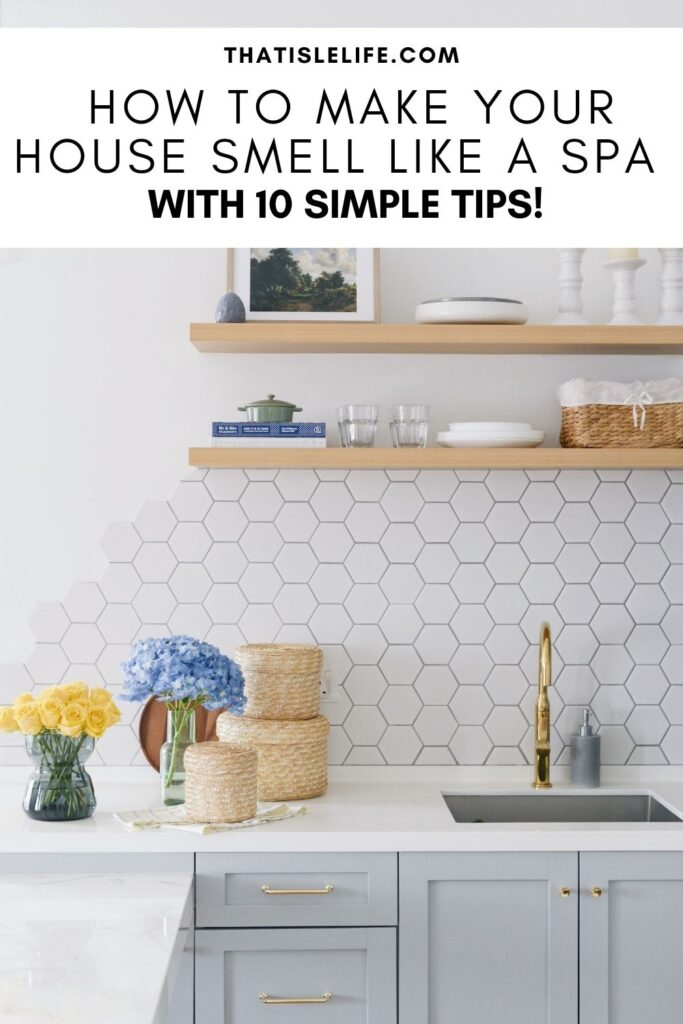 *Disclosure: This post may contain affiliate links that are at no additional cost to you, and I may earn a small commission if you purchase any products via my links. I only recommend products that I would use myself, and all opinions expressed here are my own. Read the full privacy policy here.
How to make your house smell like a spa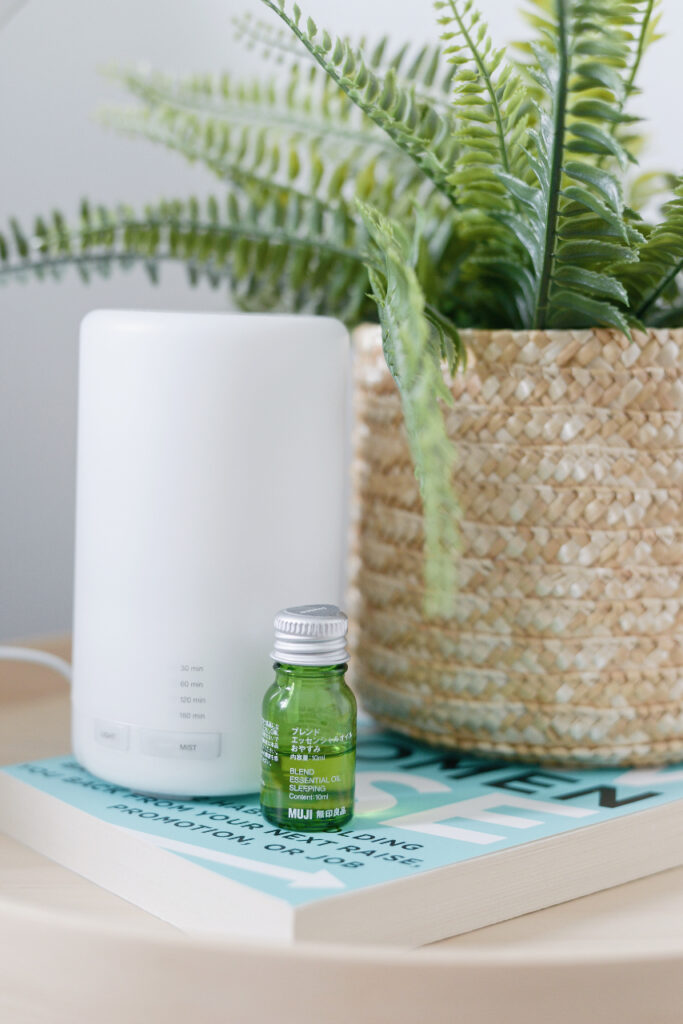 1. Essential Oils
Spas love using essential oils because they can soothe the body and mind during spa treatments.
Essential oils are made from plants. They can be extracted from the flower, herb, and tree parts, like bark, roots, peels, and petals.
Spa therapists will usually apply them directly onto your body. This type of treatment is known as aromatherapy massages, which can help to ease stress, anxiety, and depression.
Add a drop or two of your favorite essential oil onto your pillowcases and hand towels. This will help to make your bedroom and bathroom smell like a spa!
Want to create your essential oil blend? Try these essential oils:
2 drops peppermint + 2 drops lemongrass + 2 drops grapefruit
3 drops lavender + 3 drops bergamot + 2 drops jasmine + 2 drops orange
2 drops eucalyptus + 2 drops lemon + 3 drops ylang ylang
Not an essential oil expert? Don't fret! You can easily start by purchasing these convenient starter packs: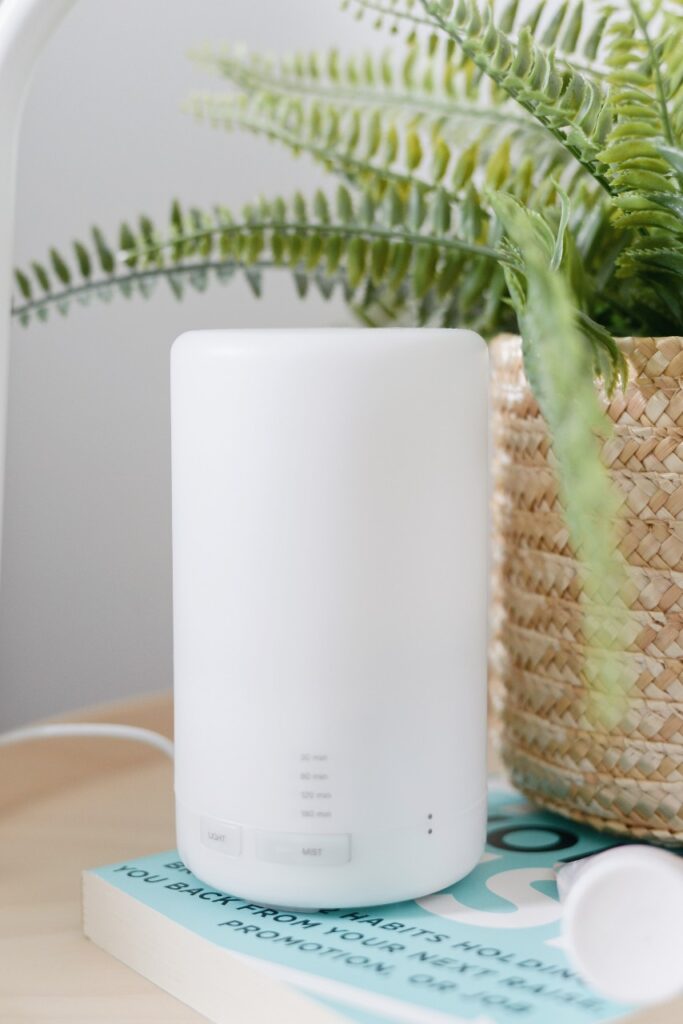 2. Electric diffuser
You can also add different types of essential oils into an electric diffuser. The best thing about a diffuser is that you don't have to worry about potential fires because there are no flames involved.
An electric diffuser also gives you the ability to control the intensity and duration of the fragrance being released.
Modern diffuser models now have timers, so you can turn them on/off at any time. Additionally, they come in different materials, shapes, and sizes, turning them into functional yet decorative pieces for the home.
Here are some of the most effective (and prettiest) diffusers on the market:
Vitruvi Stone Diffuser – This diffuser is not the cheapest, but it has received more than 1,000 5-star ratings on Amazon. Plus, it looks STUNNING! Consider this an investment.
Vivitest Ceramic Diffuser – This is a cheaper option that also looks great. Comes with a 90-day money-back guarantee and a 12-month warranty.
Innogear Essential Oil Diffuser – The #1 diffuser on Amazon! It's affordable, effective, and even provides mood lighting for the room. What's not to love?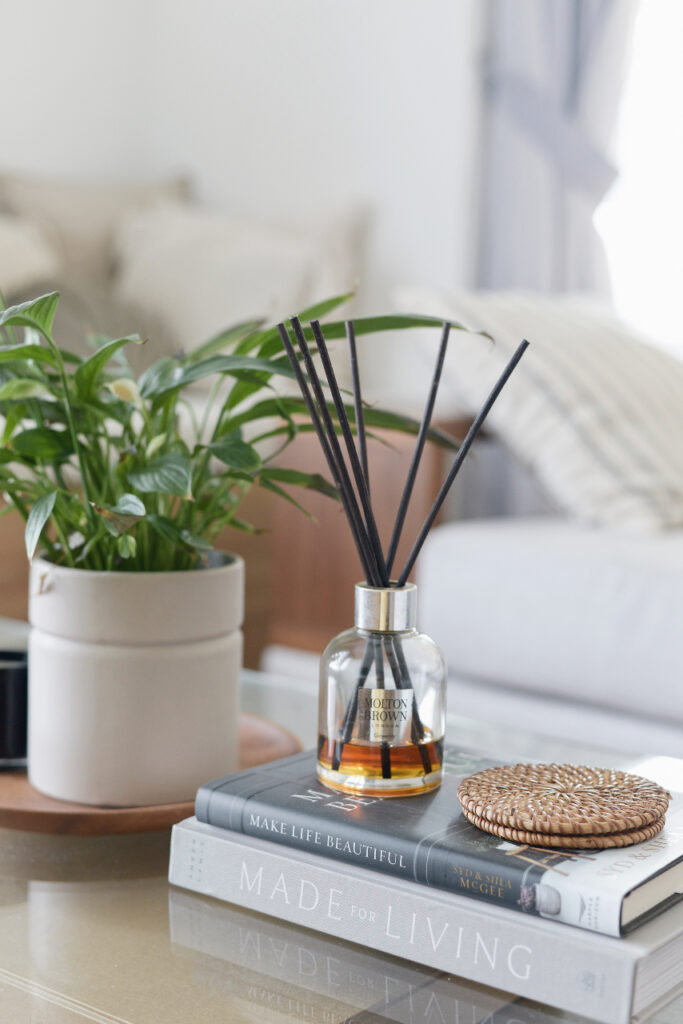 3. Reed diffuser
If you like the idea of a diffuser but worry about high electricity bills, consider a reed diffuser instead.
Many moms prefer to use reed diffusers too because they do not use any heat or flame, therefore making it a safe and practical way to add fragrance to any room.
Reed sticks, which are inserted into glass bottles with essential oils, help to disperse scent into the air.
If you feel like the scent is fading, simply turn the reeds around for a boost of fragrance.
Although you cannot control the intensity or duration of the fragrance, it is a hassle-free way of emitting scent into your home.
Here are two of my favorite reed diffusers you should try today: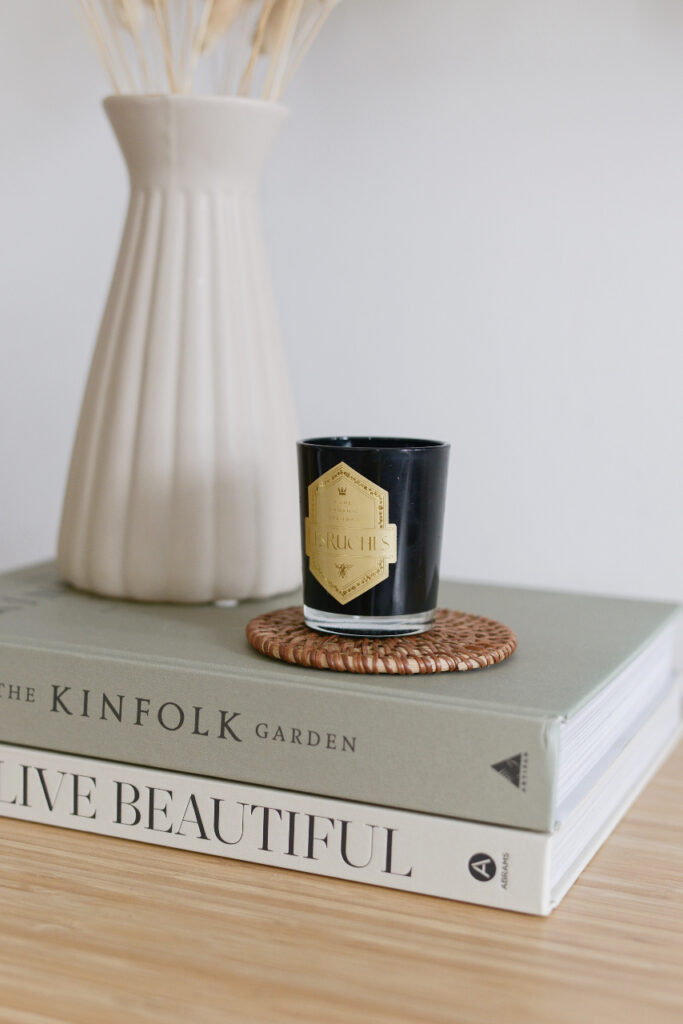 4. Candles
If you're a long-time reader of the blog, you'll know I have an obsession with candles!
As convenient as diffusers are, they do not give off romantic and cozy vibes, especially during the winter. I love lighting candles for the fragrance and ambiance.
Here are a few candles that remind me of a beautiful spa day: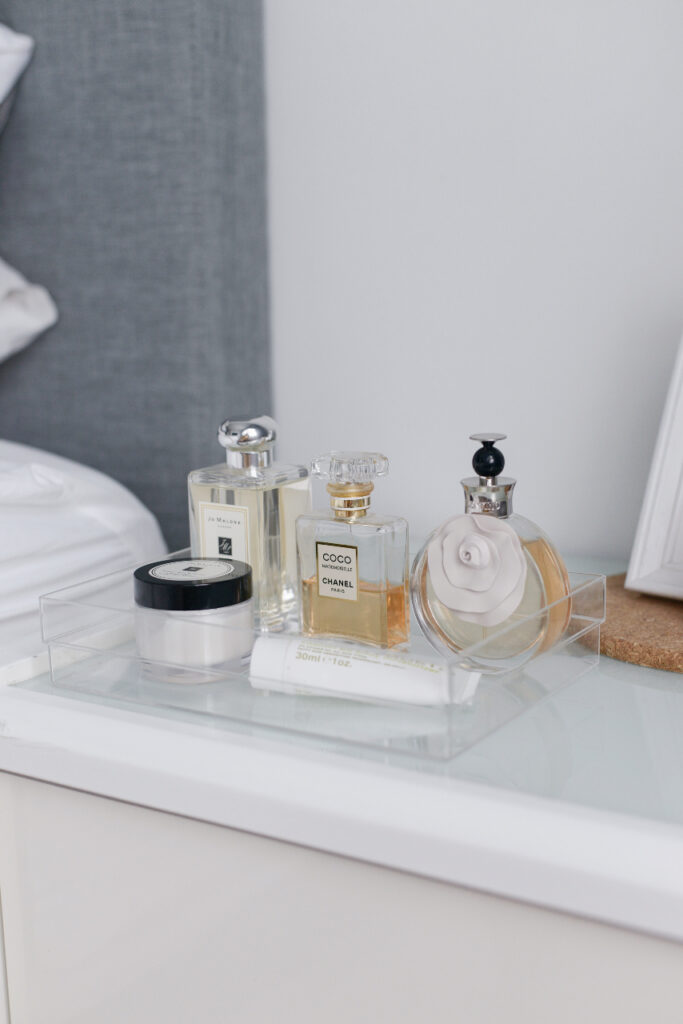 5. Beauty products
One of the reasons why a spa always smells great is because of all the beauty products they use! It's like taking a walk in the cosmetics department in a mall. Everything smells divine!
Include beauty products like perfumes, body scrubs, hand soaps, and body oils that smell good in your daily self-care routine.
Think of it as killing two birds with one stone. Not only does your smell good, but your bathroom will too!
Not sure where to start? Try these bestsellers:
Malin & Goetz B5 Hand Treatment – I stumbled upon this hand cream when I stayed at The Betsy Hotel in Miami and I LOVE it so much! The scent is so relaxing because of the bergamot notes in it.
Ouai Scalp & Body Scrub – This scrub is one of the best-smelling scrubs in town. The fragrance contains notes of rose, bergamot, lychee, cedarwood, and white musk.
Aesop Resurrection Aromatique Hand Wash – An all-time bestseller featuring citrus, rosemary, cedar, and orange notes.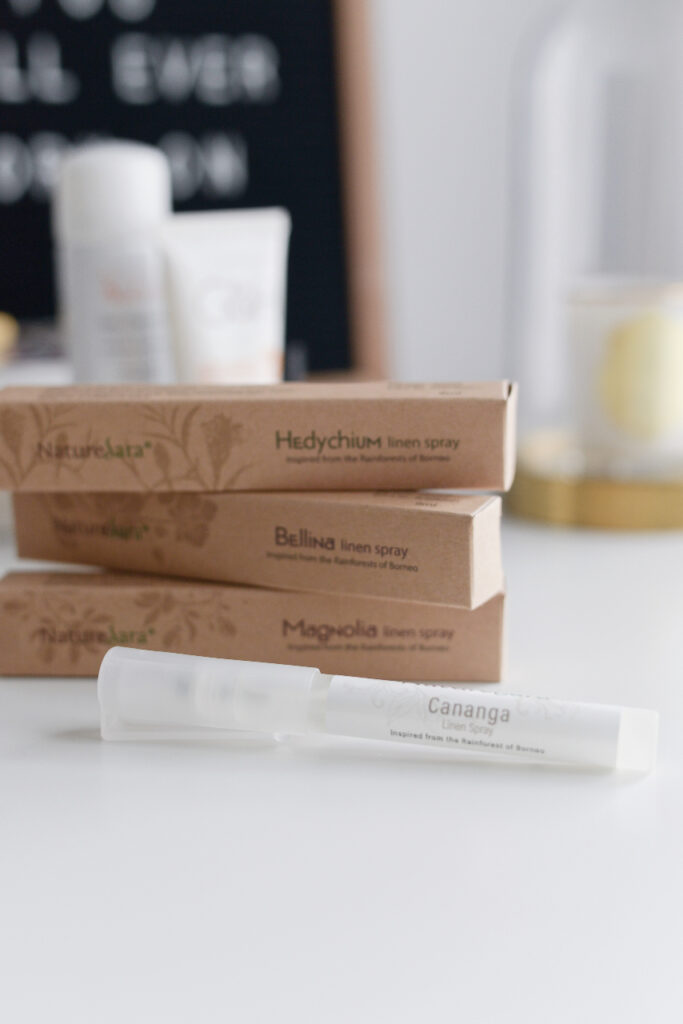 6. Linen spray
Linen spray is an easy and affordable way to make your house smell like a spa. Despite its fancy name, a linen spray is essentially deionized water or neutral alcohol mixed with essential oils.
It is mixed together in a spray bottle and is usually used for linens, towels, clothes, and soft furnishings like curtains and rugs.
You can DIY your linen spray or purchase ready-made ones.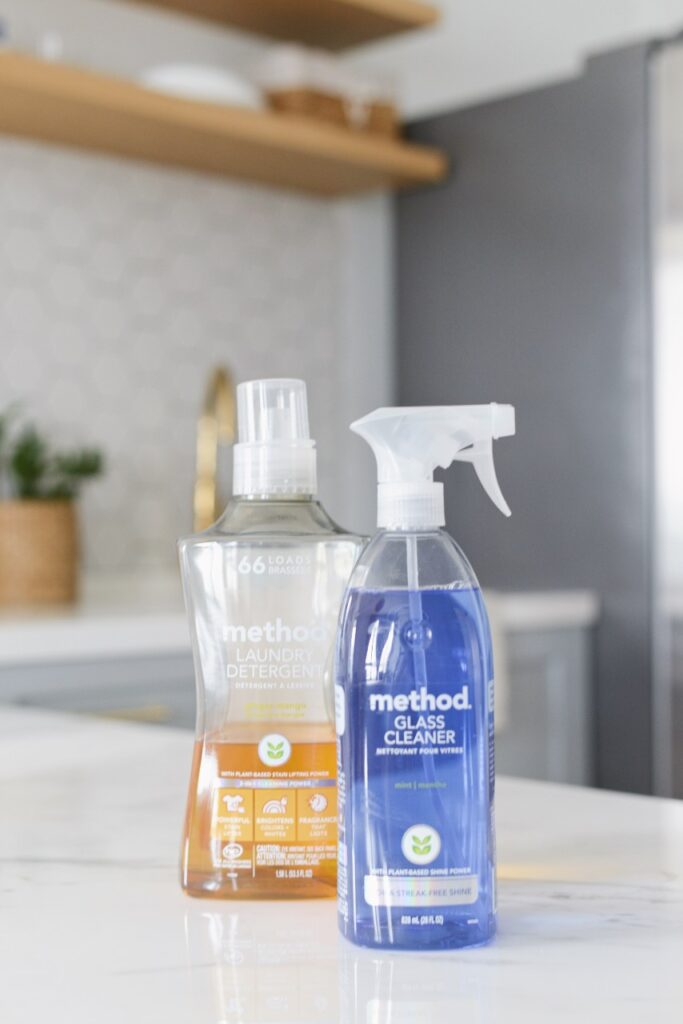 7. Cleaning products
Want to know a secret?
Since I invested in all-natural cleaning supplies with relaxing scents, I've LOVED cleaning.
It's so rewarding to relax in a clean house that smells just like a spa.
I love everything from Method – everything smells amazing! Try their range below:
8. Potpourri sachets
Do you remember when potpourri sachets used to be a thing in the 90s? For the uninitiated, potpourri is a mixture of dried petals and spices placed in a jar to freshen a room.
Potpourris last anywhere from two months to years, depending on their location and usage. Keep it away from direct sunlight for it to last longer.
You can make your potpourri or buy them in bulk.
9. Simmer pot/stove top potpourri
Have you heard of a simmer pot or stovetop potpourri? I first heard of this term in 2021 (thanks Tik Tok) and I can't wait to try this one out!
A stovetop potpourri is a simmering pot of citrus, spices, and herbs. Although it's made in the kitchen, it's NOT edible.
It is simply an all-natural way to make your house smell like a warm spa!
Learn how to make your simmer pot here.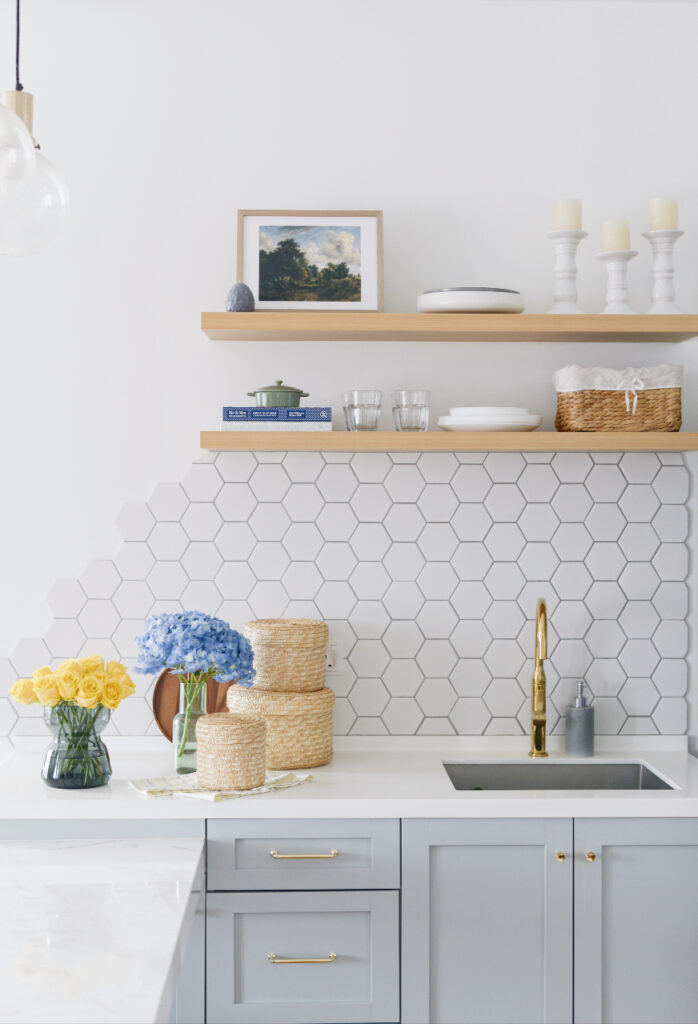 10. Fresh flowers
Too busy to do any of the above? When in doubt, place fresh flowers in any room to make your home smell like a spa.
Flowers like lilies, lavender, and gardenia have strong scents that can fill any room.
This tip is no doubt the fastest and easiest way to get your home smelling great, especially before you have guests over!
It's time to make your house smell like a spa!
There you have it – ten simple and affordable ways to make your house smell like a spa.
Although some of these scents may not smell like your typical spa, they will still invite calm and peace into your home.
Making your house smell good is one of the easiest ways to feel good and comfortable in your own home. So, I hope you try one of these tips this year!