Are you a new plant mom but don't know how to arrange indoor plants in your home? Read on to discover how you can style indoor plants in every corner of your home.
Hi, proud indoor plant parents! Are you looking to learn how to arrange indoor plants in your home?
Perhaps you've gone a little overboard with plant shopping and you want to know: how do I arrange all of my indoor plants in my home without making it look cluttered?
You might also be wondering how to arrange your indoor plants because you are worried they might not receive sufficient light.
Or you might be asking yourself: How do I decorate my living room with indoor plants?
Well, I have you covered on all of the above!
I know how easy it is to get carried away and feel overwhelmed especially if you're new to indoor plants like me.
Whether you're using dried, faux, or actual indoor plants, there are plenty of ways you can arrange them so that they complement the space.
Read on to discover six ways to arrange indoor plants in your home.
*Disclosure: This post may contain affiliate links that are at no additional cost to you, and I may earn a small commission if you purchase any products via my links. I only recommend products that I would use myself, and all opinions expressed here are my own. Read the full privacy policy here.
Related: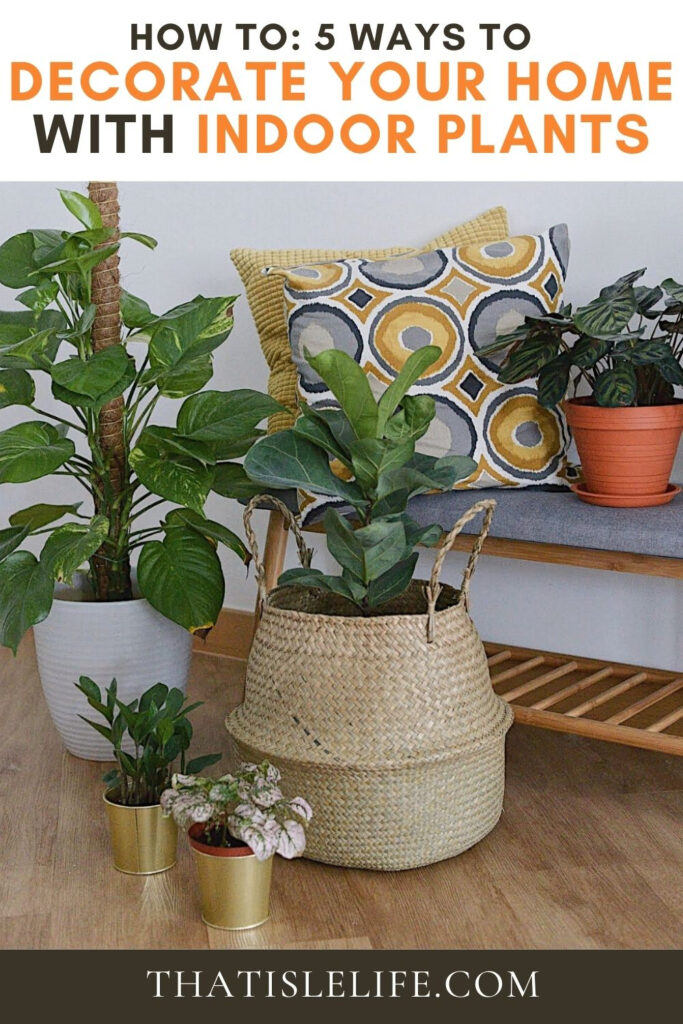 How To Arrange Indoor Plants In Your Home
Create a plant corner
One of my favorite (and easiest!) ways to arrange indoor plants is by curating a plant corner.
Since most indoor plants thrive in bright indirect light, you can arrange your plants by the window in your living room or bedroom.
To make the area visually interesting, group medium to larger and tall plants.
A successful plant corner will lend your space lush jungle vibes. Besides the plant itself, think of the plant holders/planters as decor for your home.
Use different materials like concrete planters, woven baskets, and terracotta pots for extra texture and dimension. To add height, try incorporating a wooden stool or a rattan plant stand.
Pro tip: Not sure how many plants to include? Use odd numbers to make the indoor plant arrangement look casual and chic.
Arrange your indoor plants around statement furniture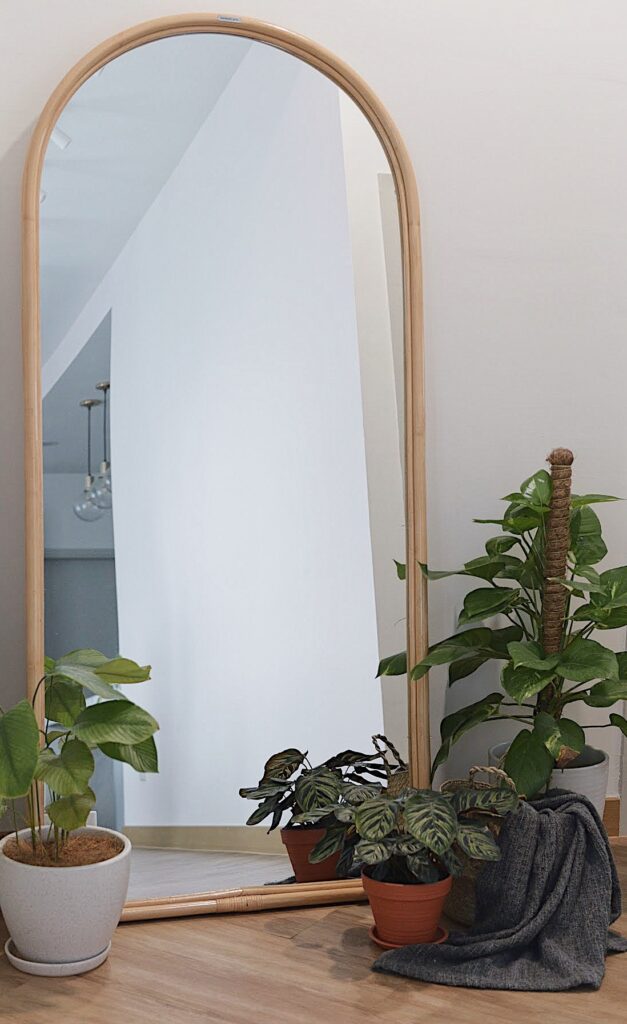 Statement furniture looks great on its own but arranging indoor plants around them instantly upgrades the entire look.
Try arranging your indoor plants next to large furniture like a full-length mirror or a bar cart in your living room.
If the area doesn't get much light, opt for a hardy plant like a tall ZZ plant or a money plant.
Dried foliage like large palm leaves and tall pampas grass are great alternatives for your indoor plant arrangement.
Pro tip: Don't want the greenery to steal the spotlight from your statement furniture? Stick to 1-2 tall and large plants. Using a cluster of small plants may cause the area to look cluttered.
Create a focal point by the entryway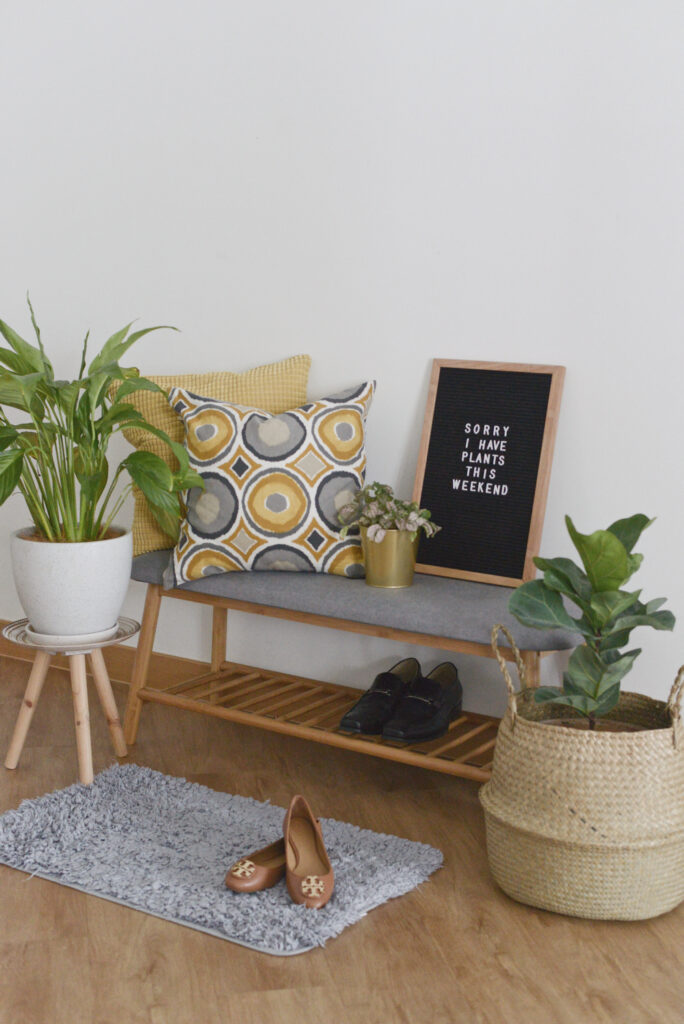 Plants are a must-have when it comes to decorating the entryway, as they make the home very warm and inviting.
Arrange tall indoor plants like a fiddle fig leaf plant next to an entryway console.
Styling a small entryway? Add a lush medium-sized plant to an entryway console and style it with a lamp and coffee table books.
An entryway typically doesn't get a lot of light, so consider purchasing plants like cacti and snake plants for this area.
Pro tip: Don't have a green thumb? Try faux indoor plants instead like the birds of paradise plant or an olive tree.
Arrange small indoor plants on shelves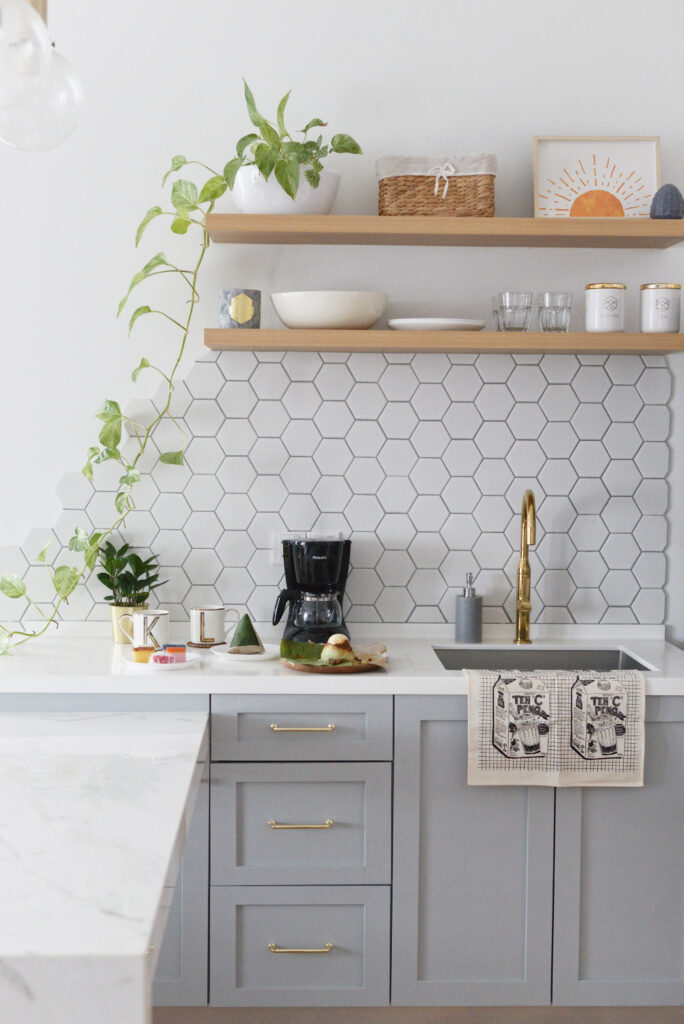 Small and/or trailing plants add a lot of depth when decorating shelves with indoor plants.
We love our trailing photos because it drapes so beautifully against our shelves and adds an interesting element to our kitchen.
Whether you're decorating bookshelves or kitchen shelves, adding indoor plants is always a great idea!
Arranging indoor plants on open shelving adds color and life to a neutral-colored space.
Style indoor plants with other decorative objects like candles, books, vases, tableware, and art for a stylish finish.
Pro tip: Looking for form and function in your kitchen? Try growing herbs to make your kitchen look and smell good.
Use plants as a table centerpiece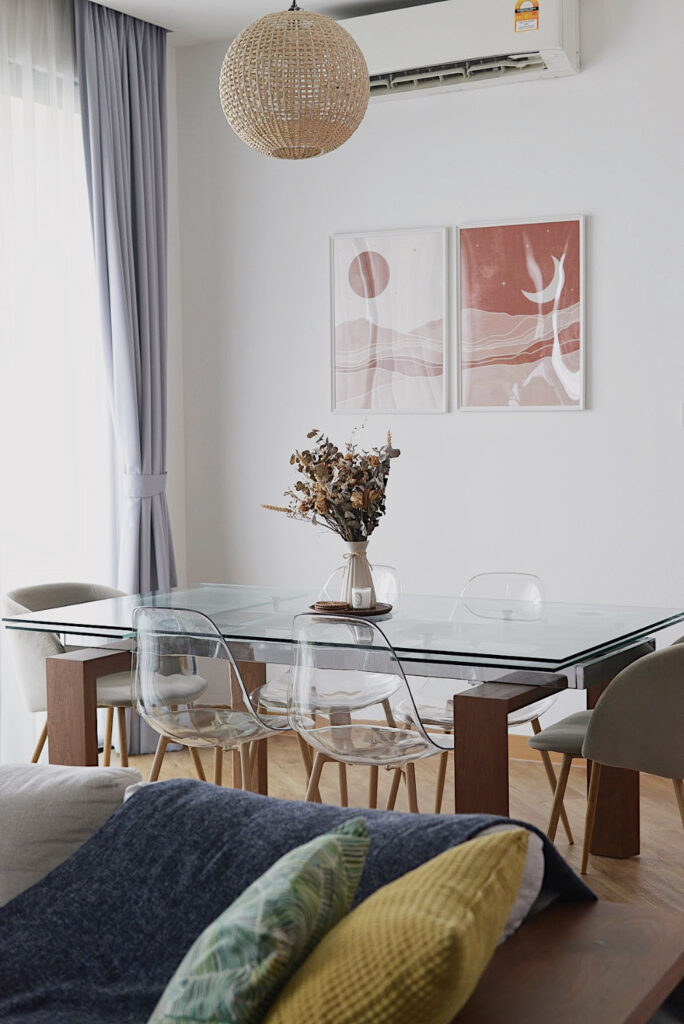 Are you a minimalist looking to arrange indoor plants in your home?
If you answered yes, then you'll want to start by displaying one plant on a table as the centerpiece. The dining table or a coffee table is a great surface for this tip.
Make the spot the center of attention by pairing a large plant with a beautiful vase. This is very important so that your plant is not drowned by the other elements in the space.
The best plant to use for a centerpiece is a bouquet of eucalyptus because it's lush and has great texture. Plus, it's affordable and easy to get!
Looking for a faux option that looks incredibly real? Try a large potted orchid plant made out of silk cloth.
Pro tip: Afraid of mites and/or other bugs? Use dried/artificial flowers or foliage in ceramic or glass vases instead.
Style a vignette in your home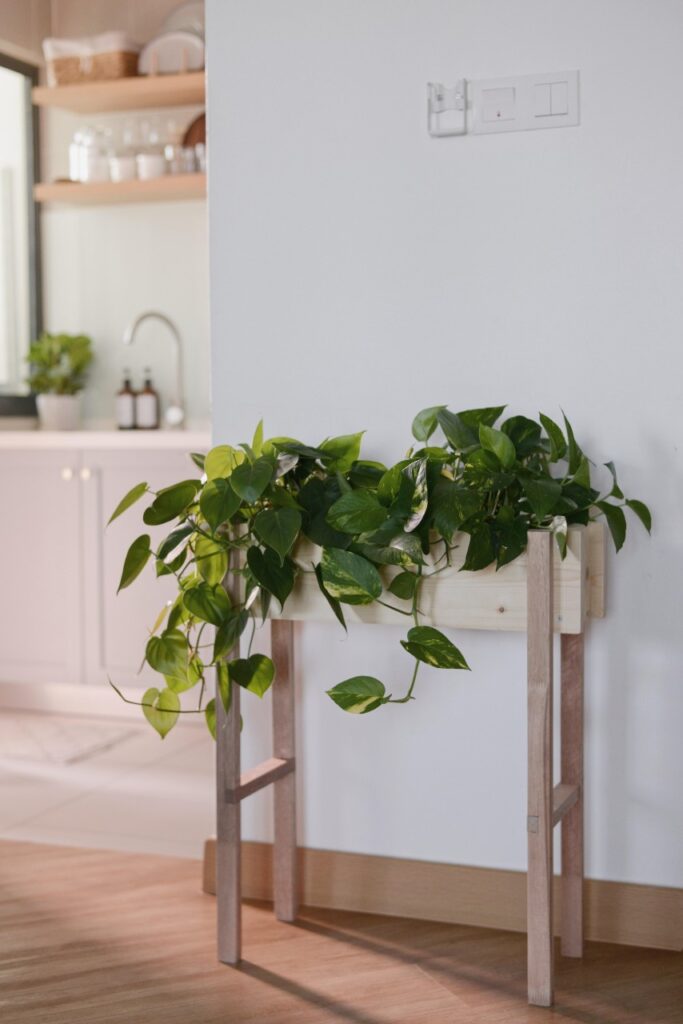 Do you have unused space at home? It could be a blank wall or a non-functioning fireplace.
Well, it's time to stop neglecting this space as it's prime real estate to arrange your indoor plants!
If you're working with a tight space like a small blank wall, consider using a legged planter or a plant stand to hold a variety of small and/or trailing plants.
Alternatively, invest in a beautiful rattan plant stand to elevate a large indoor plant.
Pro tip: Be creative and choose plants with different colors, textures, and heights to brighten up the space.
A beginner's guide to purchasing indoor plants for your home
Not sure which indoor plants to purchase? Start with these plants that look great in any home!
P/S: I have most of the plants below and I LOVE all of them!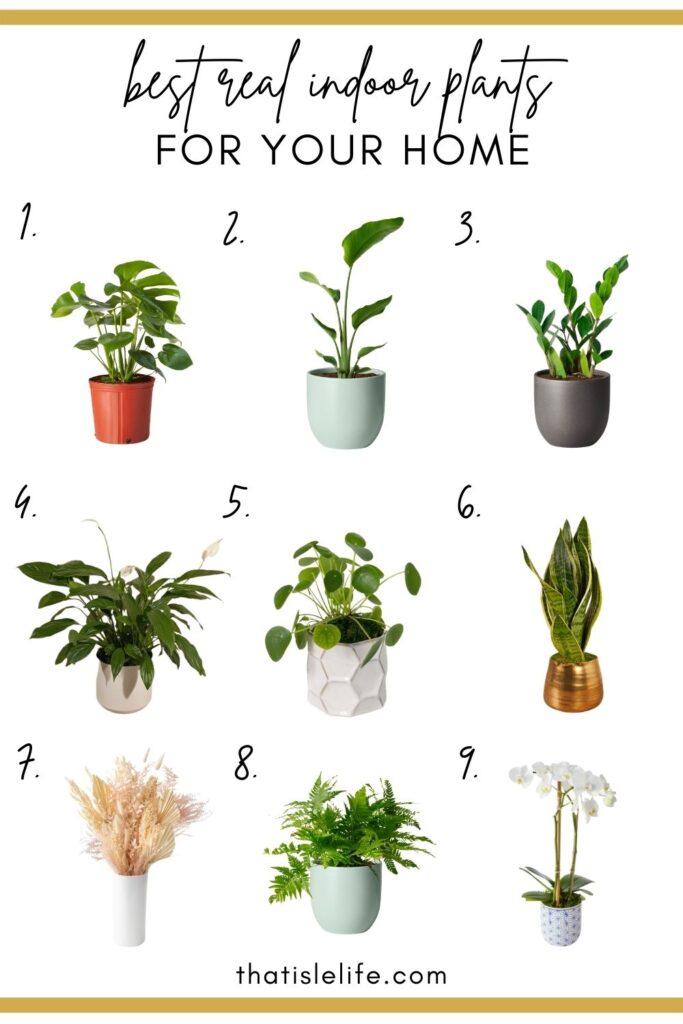 Tall and large indoor plants perfect for corners
1. Monstera Deliciosa – The monstera, also known as the Swiss cheese plant, is a beautiful indoor plant that works in practically any corner. However, it thrives under bright indirect light, so it is better off in an area that has large windows.
2. Birds of Paradise – With its broad vibrant green leaves, the birds of paradise plant is one of the most photogenic plants. It is also one of my fav plants because it reminds me of a tropical vacation!
3. ZZ plant – Ah, the one plant I didn't water for five months and survived. This plant is almost impossible to kill.
Small indoor plants suitable for coffee tables
4. Peace lily – This plant is perfect for the coffee table – it's beautiful, delicate, and surprisingly easy to care for.
5. Pilea – Don't have room for a big plant? Try the pilea plant – it's small yet cute enough to make a statement.
6. Snake plant – If your home lacks light, then the snake plant is your best bet. This plant is low-maintenance, which means it can pretty much thrive under any condition.
Medium indoor plants suitable for dining table centerpieces
7. Dried floral arrangement – Don't have a green thumb? I got you. Use a dried floral arrangement like this one to soften your space. The best part? This arrangement lasts for years.
8. Autumn fern – I'm a sucker for a plant that has so much organic texture like the autumn fern. If you're a fan of the Studio McGee look, you NEED this plant! Artificial option available here.
9. Orchids – Nothing is more elegant than having an orchid plant as a centerpiece for the dining table. This particular towering white orchid comes in a pretty blue and white pot that's minimal yet chic.
What are your favorite plants to decorate your home with? Let me know how you've arranged them in your home!
Like this post? You might enjoy these other styling tips: