Do you have a china cabinet that is filled to the brim with granny's tableware? If your china cabinet is looking dated, read on to discover how to style a china cabinet.
So, I don't own a china cabinet in my own home. But, I have one in my family home, and besides our dining table, it is the largest piece of furniture in our dining space.
My mother kept her best tableware and glassware in the china cabinet. Over time, the rest of us started dumping our mail, knick-knacks, and even medication inside the china cabinet. It was a convenient spot for all the small things that didn't have a home in our house.
I've been making over my 30-year-old family home, and I couldn't resist restyling the china cabinet during the process.
Our china cabinet is equally as old as the house. Although it shows a little wear and tear, it is still a stunning piece of furniture. It just needed a little help to make it look fresh again.
I couldn't be happier with the final result, and I'd love to share six tips I used to style my china cabinet with all of you.
Since we're on the topic of china cabinets, I decided to include the below as well. I know a china cabinet is not as popular as it was back then. So, I hope this post helps you to decide if a china cabinet is for you.
What is a china cabinet?
How to style a china cabinet
Reasons to purchase a china cabinet
China cabinet recommendations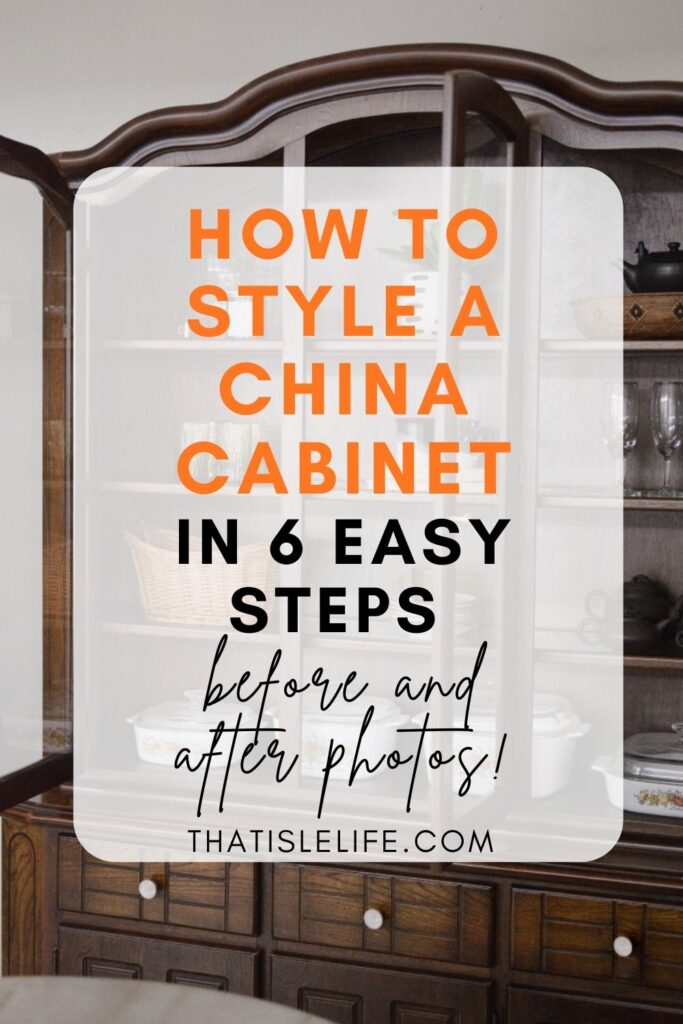 Related:
What is a china cabinet?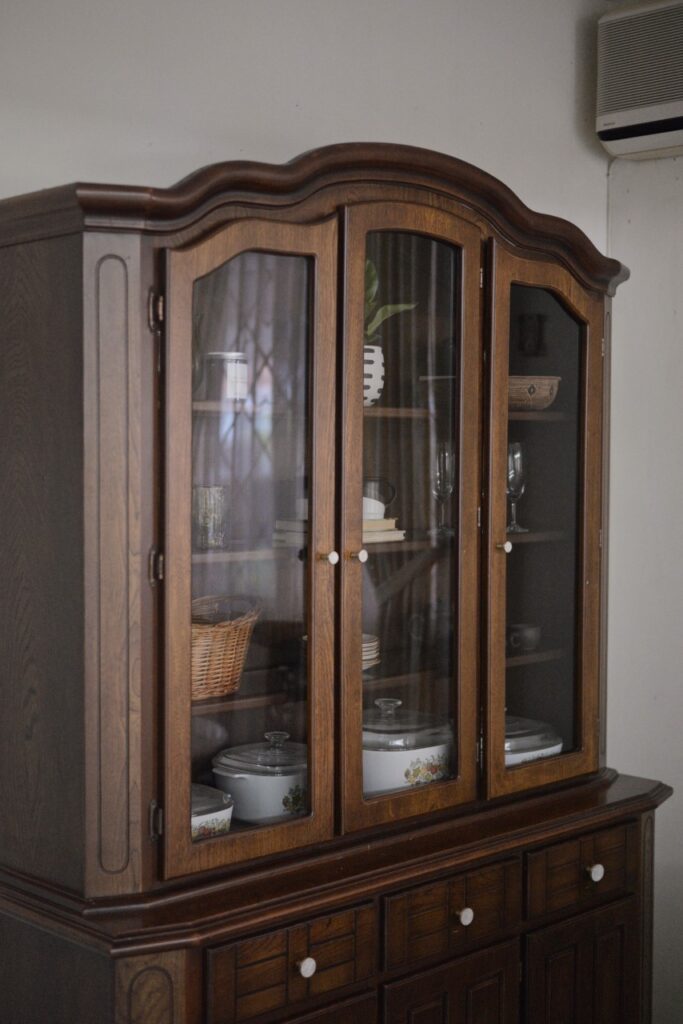 What exactly is a china cabinet? Before this, I didn't even know the term existed! I just called it a cabinet.
A china cabinet is sometimes referred to as a china hutch, which is not entirely accurate. According to Hunker, a china cabinet refers to a cabinet with multiple display shelves and glass panels. Its primary function is to protect and display china.
On the other hand, a hutch is a multipurpose piece of furniture. It has a freestanding unit that sits on the bottom half like drawers or cabinets. This is the main difference considering a china cabinet usually comes in one piece.
Although they are different, these terms are still used interchangeably today.
How to style a china cabinet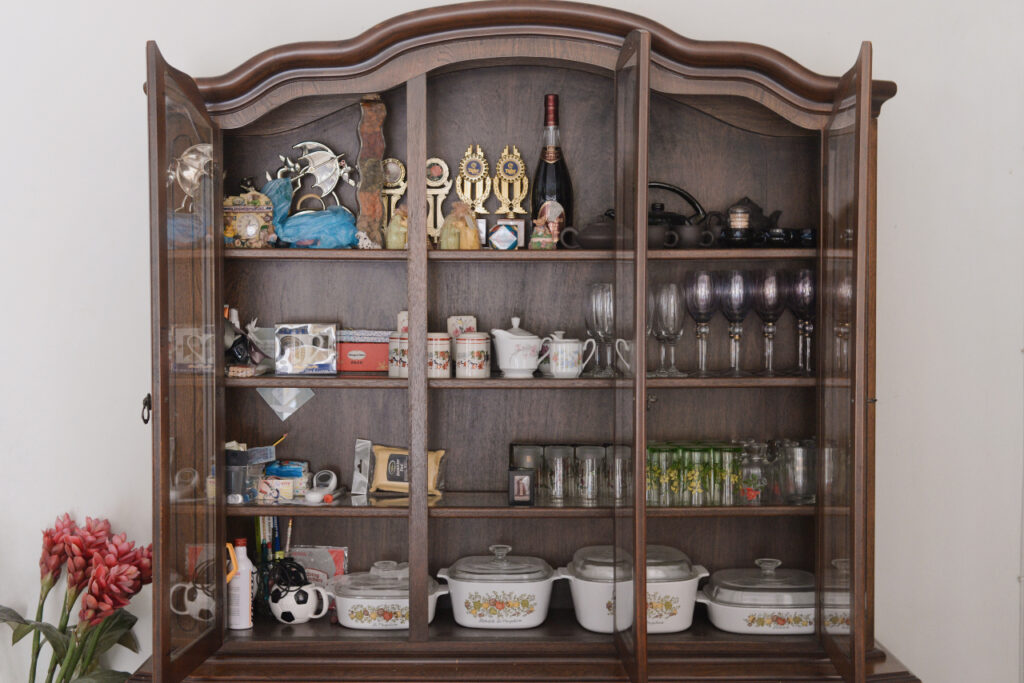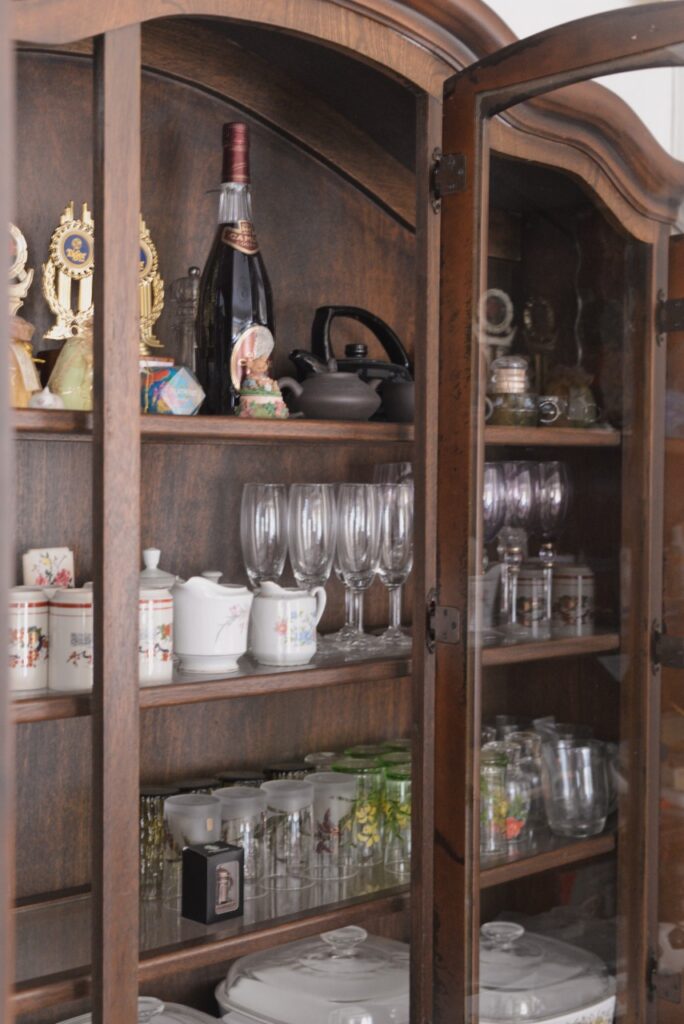 When it comes to styling, I love to scour my home first to see if there's anything I can use before I shop for new pieces. Do shop within your own house first if possible. Remember, you can always recycle or repurpose something if you can't find exactly what you're looking for.
I challenged myself to style our china cabinet during the lockdown because I wanted my creative juices to really flow. I'm proud to say I styled the entire cabinet without buying anything new!
Thankfully, my late mother was a little bit of a hoarder, so I managed to find all of these gems inside our home. Trust me, it definitely felt like I was on a scavenger hunt, and I found all the treasures!
Once I found all of my pieces, I took a piece of paper and drew how I envisioned the cabinet to look like. Now, you don't have to do this if you don't want to. After all, there are times when I freestyle my arrangements as well!
But, because I only had a limited number of things this time, I wanted to make sure I wasn't missing anything. After all the prep work above, it was time to put everything together (my favorite part!)
Here are six styling tips I used to get this look: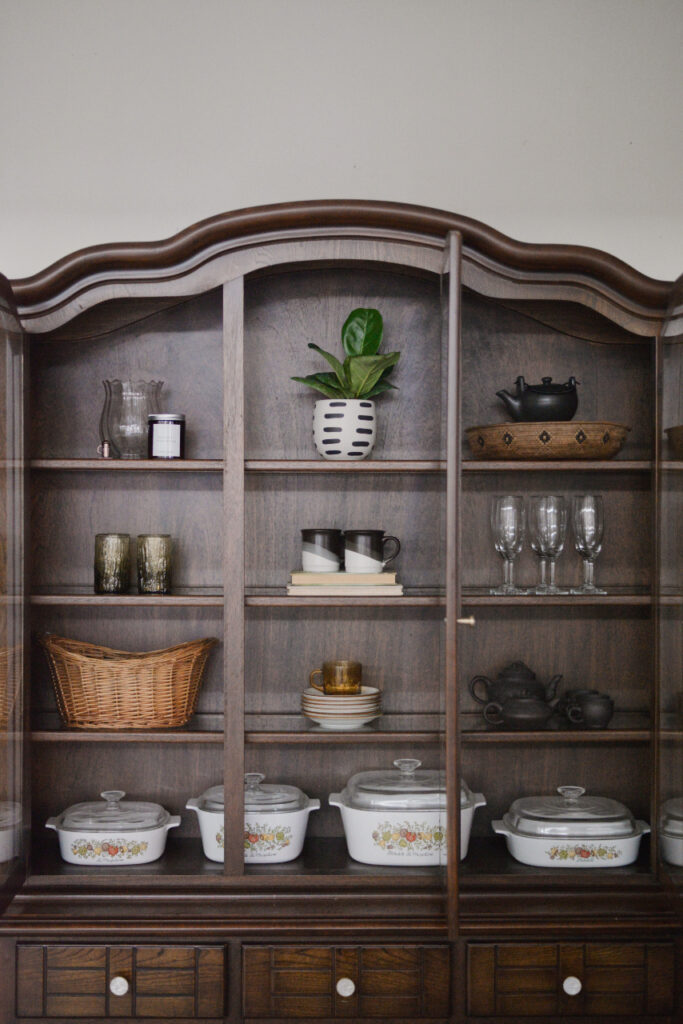 1- Use pieces with different textures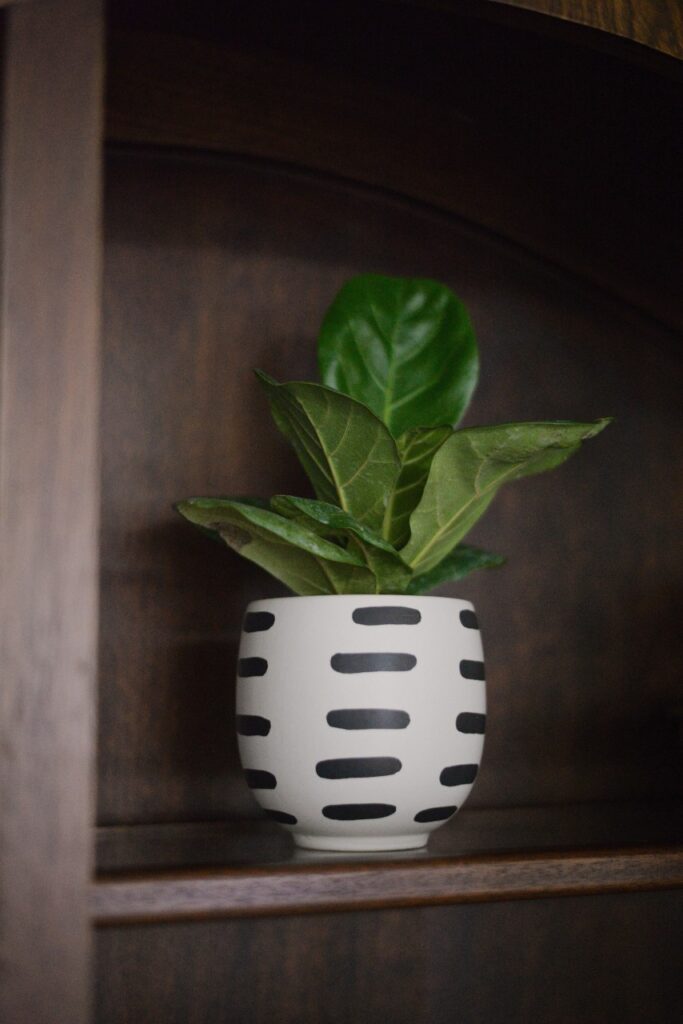 Using pieces of the same material can make the entire display look one-dimensional. I used three different materials – glass, ceramic, and rattan. Incorporating textures like rattan and stoneware provides depth and makes the entire display look interesting.  
2- Add height to give your arrangement contrast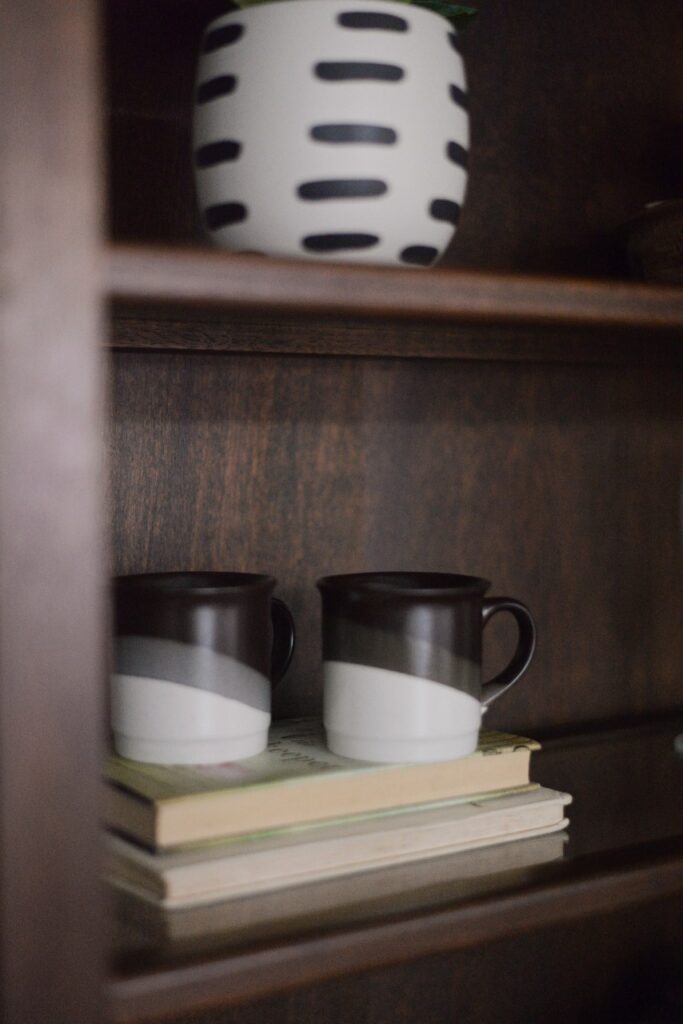 Similarly, it is important to add different heights to give the arrangement a much-needed contrast. Try stacking plates and layering mugs for extra height. Alternatively, you can also use books as risers. I stacked a few books in my rattan tray to lift my teapot.
3- Choose complementary colors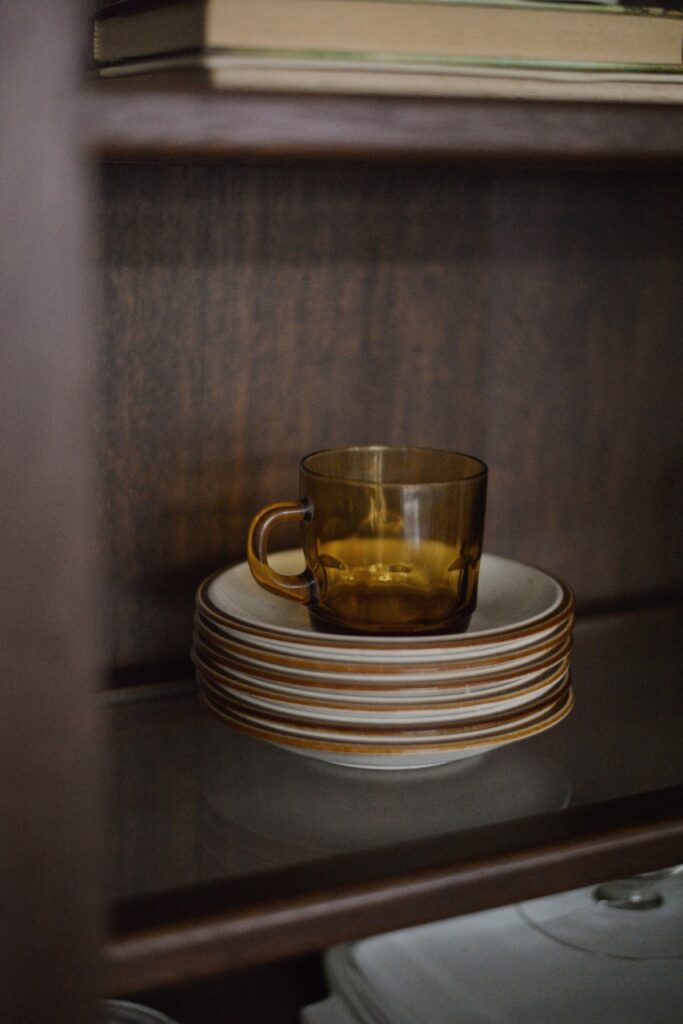 Choose complementary colors for a cohesive look. Since my china cabinet is made from a darker wood, I wanted to keep the overall aesthetic moody. So, I steered away from bright pastel colors and used neutral colors like brown, green, amber, and white.
4- Give your pieces breathing space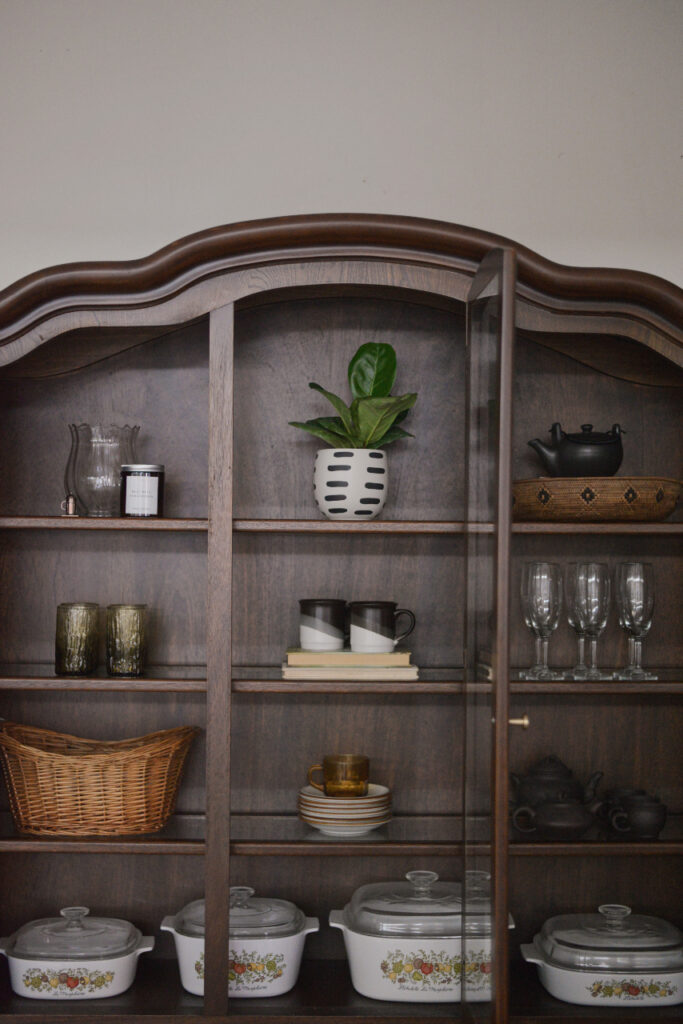 Believe me, I know how tempting it is to display everything you own. However, clutter makes things blend in, and not stand out. If you have a lot of tableware to display, I suggest rotating your display once every couple of months.
5- Add a modern touch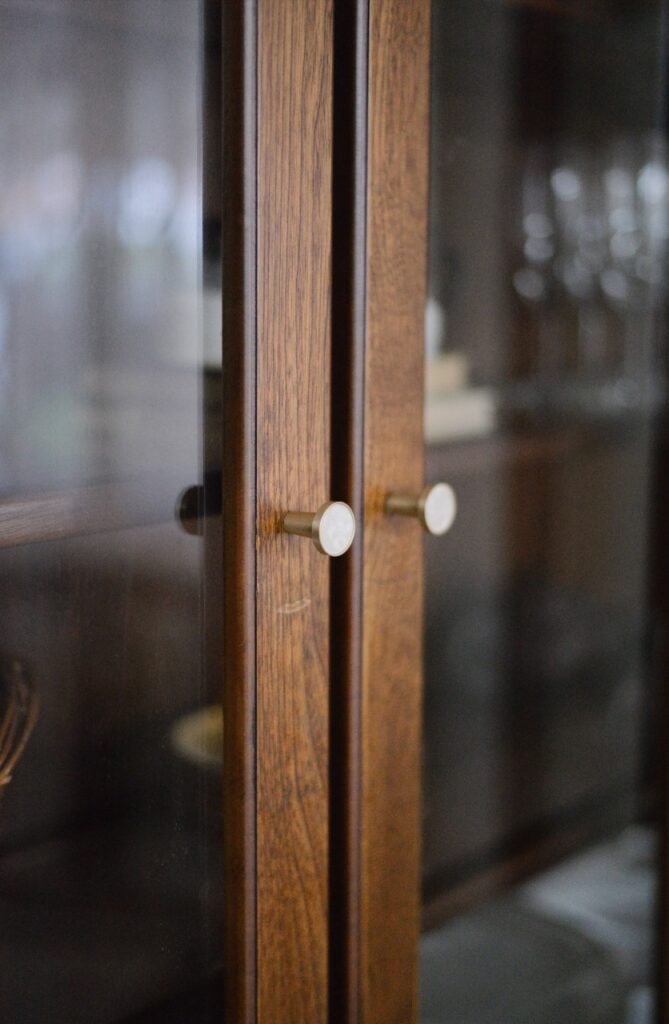 A china cabinet can look very traditional so adding a modern touch is a great way to update it. My china cabinet had aged brass hardware. I decided to replace them with new brass knobs, which added a nice pop of color to a dark piece of furniture.
6- Include things that mean something to you and your family
This is a styling tip I use for everything. Adding sentimental things is what makes your home unique. They are what make your home YOU. I made sure to keep my mom's favorite serving ware because they remind me of when she used to cook hearty meals for us.
Reasons to purchase a china cabinet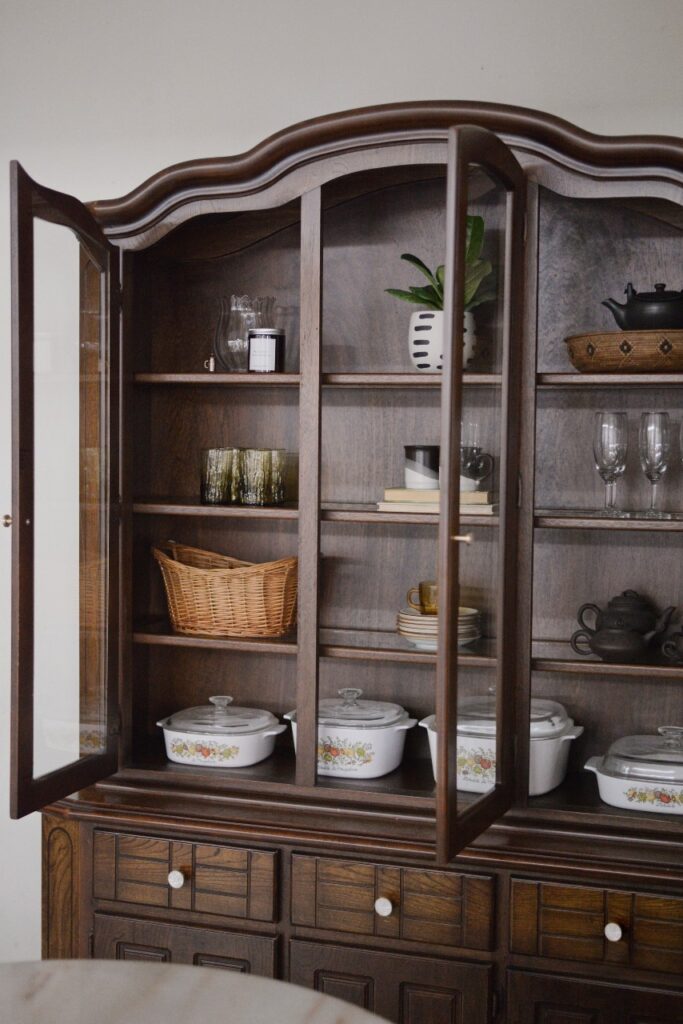 A china cabinet will look beautiful in any dining room. I would love to purchase one for our apartment but we, unfortunately, have no space!
If you're still considering a china cabinet in your home, here are some reasons to purchase one:
1- Storage
Even if you're not an avid tableware collector, a china cabinet is a perfect place to store your everyday dining essentials. Keeping them in a china cabinet in a dining room makes setting the table an easy and fuss-free task.
2- Decorative
A china cabinet is more than just a piece of furniture. Because of its size, it can pass off as a piece of statement decor in the house.
3- Heirloom
When choosing a china cabinet, choose one that is made of solid wood. A sturdy china cabinet can be kept as an heirloom and passed down from generation to generation.
China cabinet recommendations
*Disclosure: This post may contain affiliate links that are at no additional cost to you, and I may earn a small commission if you purchase any products via my links. I only recommend products that I would use myself, and all opinions expressed here are my own. Read the full privacy policy here.
China cabinets can come in different shapes, sizes, materials, and price points. Here are some high-end and affordable options I love: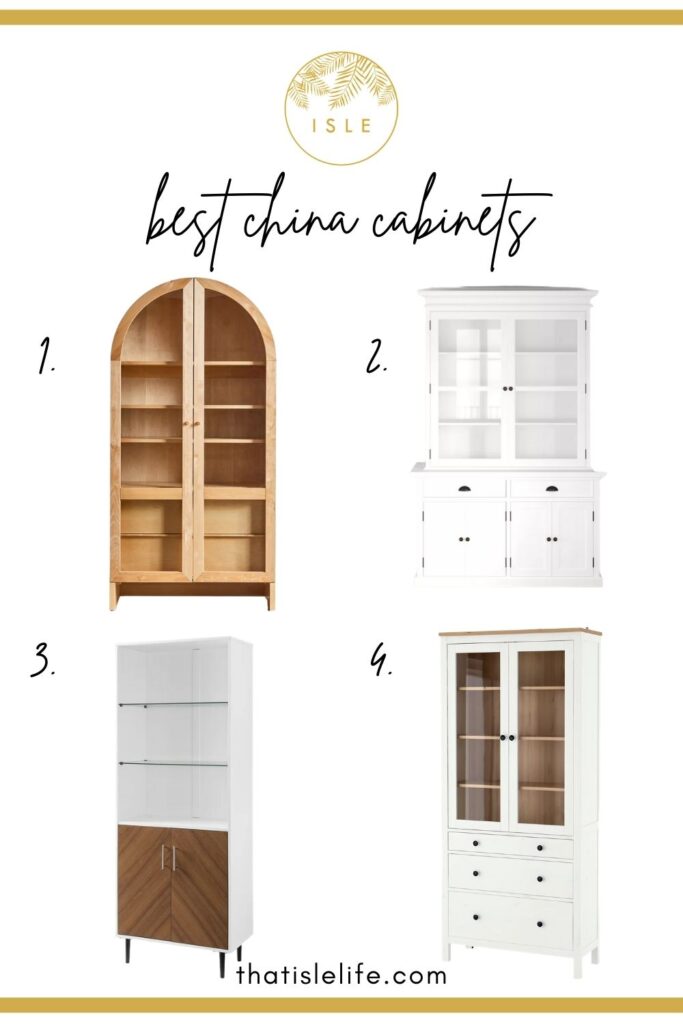 1. Mason storage cabinet, $999
2. Tyne china cabinet, $1,859.99
3. Keiko china cabinet, $269.99
4. Hemnes cabinet, $399
I hope this post has changed your mind about china cabinets! What is your favorite way of styling china cabinets?